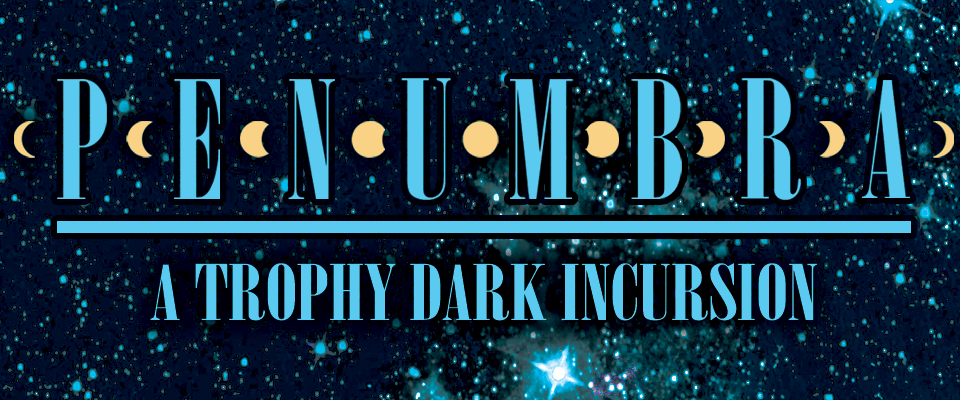 Penumbra: A Trophy Dark Incursion
A downloadable one-shot adventure
A planet poisoned by its people's lifeline. The people's need for just a few more drops of that poison. A remote, dangerous chance to discover a new reserve. As a member of a team of disposable drillers left alone on an asteroid to take that chance, the hope for your home colony that you lost long ago is now dwindling what little hope you reserved for yourself. If you can just find and secure this last energy source, it may let them live a few decades longer, but more importantly, you could earn enough money to leave this place far behind before you have to watch it destroy itself…
Penumbra is a contemplative one-shot adventure for Jesse Ross's Trophy Dark in which the players, a rag-tag group of burnt-out Sap drillers forced into the role of last-minute heroes, will struggle to cross a desolate asteroid and add a few final grains of sand to their colony planet's proverbial hourglass. A bleak and lonely exploration of whether to fight the end, this book contains all of the rules you need to play, including all-new character creation options.
Theme: Recurrence
The book is 32 pages long. It includes:
4 new occupations and 6 new backgrounds, drives, and rituals for character creation
15 moments
10 conditions
You can also use the new character creation options from this adventure in the character keepers for Trophy Dark and Trophy Gold by Drew/Arktosaur for easier online play!
With purchase, you get the following fully bookmarked PDFs:
Single-page layout
Facing-spread layout
Printer-friendly, black-and-white, art-less version
A separate file for character sheets
[A print-on-demand option is coming soon-ish!]
A limited number of free community copies are available below for those who are currently struggling. Every purchase of Penumbra will unlock one additional free community copy for another user. If you are feeling particularly generous, you can increase your purchase price, and for every $9.00 above the default price you pay, another free community copy will be unlocked!
---
If you want a darker, more horrifying one-shot adventure, check out my other Trophy Dark incursion The Pried Eye!
Join my mailing list for free versions of my games, free boardgame giveaways, and exclusive discounts!

Purchase
In order to download this one-shot adventure you must purchase it at or above the minimum price of $5 USD. You will get access to the following files:
Penumbra-Printer Friendly
3 MB
Penumbra-Character Sheet
2 MB
Community Copies
Support this one-shot adventure at or above a special price point to receive something exclusive.
Community Copy
If you're struggling financially but still really want to check out Penumbra, grab a community copy for free. A set number will be available to begin with, and then every purchase of the game will make another free community copy available.
If there are no more community copies available, but you just can't afford the cost, send me an email, no questions asked.