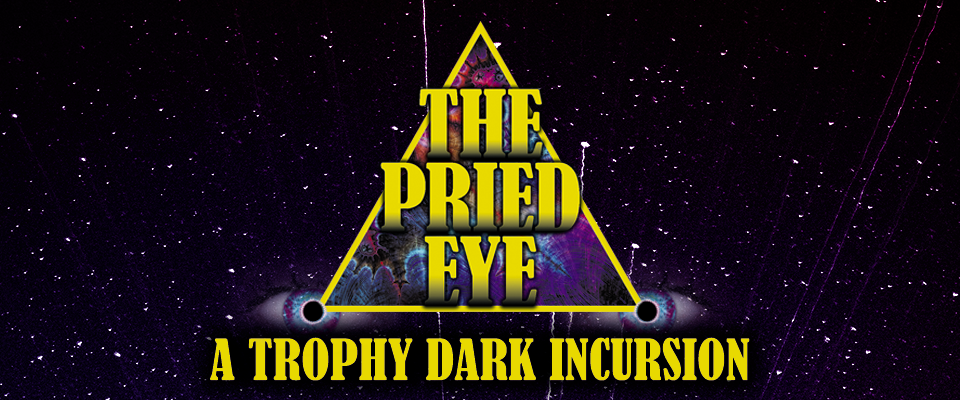 The Pried Eye: A Trophy Dark Incursion
A downloadable one-shot adventure
WARNING: This book involves significant body horror elements and may not be suitable for players sensitive to such content.
Once, this town only whispered about the sordid histories of its rare newcomers and the abundant setbacks of its long-time residents. But a brilliant flash in the sky a few nights back has brought new topics to the hushed tones of worried recluses and nosy neighbors: odd shapes along the treeline, mysterious lights deeper within, and notes pleasant to the ear dancing on the wind. You've heard more enticing rumors, though, those of priceless gems unlike any other, ripe for the taking, and your thoughts can't escape the tinge of colors you've never witnessed before, strange but welcoming, emanating unseen from the woods that were once your childhood playground…

The Pried Eye is a psychedelic one-shot adventure for Jesse Ross's Trophy Dark in which the sudden appearance of something spectacular and indescribable in the backwoods of rural 20th-century America will lure the players into hunting for otherworldly gems, hoping to seize their independence and break free from their small town's lack of opportunity. A tense and eerie descent into body horror, cosmic weirdness, and ego murder, this book contains all of the rules you need to play, including all-new character creation options.
---
Truly amazing and beautifully presented. Possibly my favorite TTRPG book to just look at or read!
—Ewan, fan
I picked this up and ran it with my D&D group. None of us had played the Trophy Dark system, and we had a blast. Last night will go down as one of my top RPG experiences, especially as a GM. The players picked up on the themes of the incursion and went with it. Some really good evocative (and pretty gross) imagery. This was awesome and inspiring.
—Jesse S., early adopter
---
Theme: Communion
The book is 28 pages long and has a lot of evocative artwork. It includes:
4 new occupations and 6 new backgrounds, drives, and rituals for character creation
15 moments
10 conditions
You can also use the new character creation options from this adventure in the character keepers for Trophy Dark and Trophy Gold by Drew/Arktosaur for easier online play!
With purchase, you get the following fully bookmarked PDFs:
Single-page layout
Facing-spread layout
Printer-friendly, black-and-white, art-less version
A separate file for character sheets
Or get a print-on-demand hardcopy through this link!
---
A limited number of free community copies are available below for those who are currently struggling. Every purchase of The Pried Eye will unlock one additional free community copy for another user. If you are feeling particularly generous, you can increase your purchase price, and for every $9.00 above the default price you pay, another free community copy will be unlocked!

---
If you want a subtler, more contemplative one-shot adventure, check out my other Trophy Dark incursion Penumbra!
Join my mailing list for free versions of my games, free boardgame giveaways, and exclusive discounts!
Purchase
In order to download this one-shot adventure you must purchase it at or above the minimum price of $5 USD. You will get access to the following files:
The Pried Eye-Pages.pdf
19 MB
The Pried Eye-Spreads.pdf
19 MB
The Pried Eye-Printer Friendly.pdf
3 MB
The Pried Eye-Character Sheets .pdf
1 MB
Community Copies
Support this one-shot adventure at or above a special price point to receive something exclusive.
Community Copy
If you're struggling financially but still really want to check out The Pried Eye, grab a community copy for free. A set number will be available to begin with, and then every purchase of the game will make another free community copy available.
If there are no more community copies available, but you just can't afford the cost, send me an email, no questions asked.