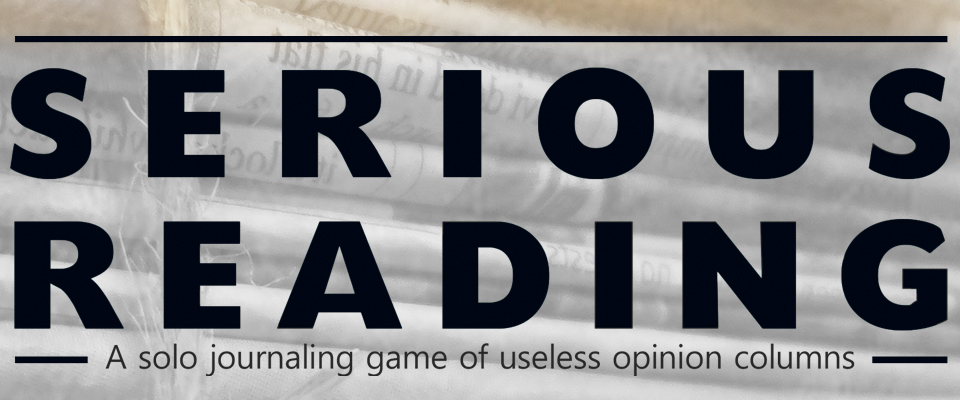 Serious Reading
As featured on an episode of the Friends at the Table podcast's The Road to PALISADE!
...She denies him pies these days...
Serious Reading is the only game inspired by the brow furrowing and spine shuddering evoked by opinion columns.
It is a comedy-focused, single-page, solo journaling RPG where you take on the role of a grossly overpaid opinion columnist who probably should have quit years ago, as most of them should have if we could only be so lucky. You'll use separate tables of prompts to write headlines for fictional opinion pieces, ostensibly about very serious topics, and excerpts from those articles that reveal little to nothing about their supposed topic but everything about the bizarre, broken life of your columnist character.
Using a bit of William Lentz's Second Guess System and made for the Second Guess Jam, Serious Reading ensures every columnist character will gradually wane in their relevance until they rightly fade into obscurity as culture passes them by.
When you download this game, you get a hyperlinked PDF and a printer-friendly alternative that eliminates the background art for you to save on ink and increase readability.
A limited number of free community copies are available below for those who are currently struggling. Every purchase of Serious Reading will unlock one additional free community copy for another user. If you are feeling particularly generous, you can increase your purchase price, and for every $3.00 above the default price you pay, another free community copy will be unlocked!

UPDATE (Jan. 10, 2022): I've added an expansion, called Seriouser Reading, as a second page to the PDF file! It adds first and last name roll tables for your columnist character and a full second set of Headline and Write About tables, more than doubling the content in the original game. If you already have Serious Reading, just redownload the PDF, and you'll have both!
The prompts this time around tend to be more specific and a bit more bleak, so be mindful of your safety tools and remember that you can just stop anytime the Poe's Law–driven comedy hits too close to reality.
---
If you want more horrifying and traditional roleplaying, check out my one-shot adventures below...
Join my mailing list for free versions of my games, free boardgame giveaways, and exclusive discounts!

Purchase
In order to download this game you must purchase it at or above the minimum price of $3 USD. You will get access to the following files:
Serious Reading-Printer Friendly.pdf
2 MB
Exclusive content
Support this game at or above a special price point to receive something exclusive.
Community Copy
If you're struggling financially but still want to check out Serious Reading, grab a community copy for free. A set number will be available to begin with, and then every purchase of the game will make another free community copy available.
If there are no more community copies available, but you just can't afford the cost, send me an email, no questions asked.